Although the April launch of FastFictionPodcasts is only a week gone, the new month brings new stories.  Already a tense, gripping 'How dunnit" is available for your listening pleasure.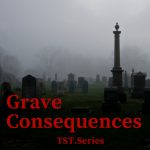 It fits comfortably into our three themes, a marital discord, (TheSpouseTrap,TST), there may be a crime (CrimeWithoutGrime, CWG), and without giving a spoiler of who, how what or why, we have to add a (MakesYouThink,MYT). Compared with the previous pods its fairly long, (20minutes), but I promise it will keep you in suspense. After all, a dead husband, a Merry Widow and an isolated homestead. Everything you need for a Nightmare. This drama was once made into a short film and won a small video competition.
The best time to listen is on a dark and story night…. Need I say more?
Note: March 2019 Update: The print version first appeared in one of the annual Crimewriters Queensland anthologies, which are now only available through the National Library.
Please follow and like us: