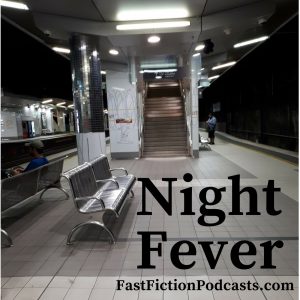 Night Fever is the name of the first pod for July.  Once again we find a dual split between categorizing it as CWG or TST. Once you listen to this literally 'chilling' story you can decide yourself. Maureen Durney takes us, as Nikki,  into the dark city late at night looking for Tony, an errant husband. It does not end well.
What does end well is the opportunity to obtain the script for this monologue. This is an ideal format for you overseas listeners who are listening to this story with English as a second language.  Please go to our Contact page and we will be delighted to send the script.
And we are now happy to inform you should be able to download us on your platform of choice. We can be found on iTunes, Stitcher Radio, iHeart, Whooshkaa, Google, and Listen Notes – a dedicated podcast platform.  And of course we would love a nice review, or simply a few comments, or a 'Like'. It all helps to keep our enthusiasm high in providing quality stories in an easy-to-listen-style.
Maureen can also be heard on A long time waiting,
Please follow and like us: