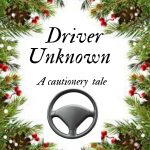 Driver Unknown is not a nice story. In fact, it is a Cautionary Tale, once known a story with a moral, or a message.  What that message depends on the reader and how it is read.
While it is our last podcast for the year, we hasten to add that the next pod will be coming out very soon, and will be very different. So please bear with us while we impart a simple story from LifeInTheSlowLane, that MakesYouThink, while also being a candidate for the CrimeWithoutGrime series.
See you in a happier story next year.
Please follow and like us: