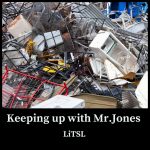 Keeping up with Mr. Jones is better described as a yarn than a story. Not 'a shaggy dog story'. By tradition, they are long and multi-directional. This is short and focused. And keeping in line with the season just past, leaves a nice warm fuzzy feeling with you as you come to the end of the simple tale.
We introduce a new reader to fastfictionpodcasts. Trevor Bell first appeared in A Day Too Long, and later, An Ordinary Couple. Keeping up with Mr. Jones is his first narrative, and we think his voice is ideal for yarn spinning. If you want to know a little more about him, go to the Rogues Gallery.
While we like to think this is a 'nice' story, our next one will be 'nasty'. Indeed, The Sound of Silence may keep you awake at night. So ensure you sleep well before we release it. Take care.
Please follow and like us: