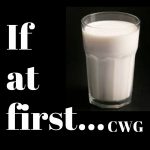 If at first you don't succeed, try try again.  Our new story, old tyme melodrama, allows you to fill in the dots.   And are the dots at the end, the ones you filled in at the beginning? As one of our CrimeWithoutGrime series it suggests a crime is committed, but we leave you to fill in the details.
And at the end, if we have managed to entertain you, perhaps you could go to our facebook page, and tell us you like us, or give us a rating on iTunes. This is very encouraging when preparing other episodes.
Also from the team in Australia – a BIG welcome to the new listeners in Iceland. We would love to hear from you.