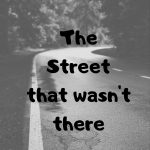 The street that wasn't there  is one of our LifeInTheSlowLane Series, and covers a little episode in an old lady's life – that was a little 'odd'.
The date is 1965, the location, Armidale, New South Wales. Things are very different now than they were back then.
Well, we hope so!
For those listeners who are interested in stats, these are where most of our overseas listeners have come from during the last month.
Mountain View…USA                         Cape Town … South Africa                          Qatar … Middle East
NOTE: The street that wasn't there is an excerpt from My Life and Death Diary, coming soon!