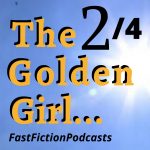 The Golden Girl – Part 2 is the second of our four-part series.  The runnaway bride reappeared briefly, but the timing was bad.  And now she has a different husband. But has she "stuffed up" again.
The 1966 Aberafan disaster wiped out every child in the village
Sadly we could not bring you the original voices of the Welsh Male Choir, but this version is a good alternative.
Please follow and like us: