A. Nunn was only known as Alan. He was a member of the Toowoomba Repertory Company for a brief time, did a few recordings, then moved. Sadly we lost touch as he  obviously had a magnificent voice for radio and pods.
Breanda Cross. In another life - in a time-span far far away - BC has been a writer, performer, teacher, yada, yada, yada. Of more interest to fastfictionpodcasts is the fact that she was a long time member of CrimeWritersQueensland and more recently the Brisbane chapter of Sisters in Crime.
John Cross - In the same time span - but on a slightly different planet, JC was an academic Science Tutor and Editor of ScienceMag for a number of years.
Maureen Durney - Retired teacher, Principal and now travel blogger. We will be featuring some of Maureen's own work shortly. In the meantime look out for her in the soon-t0-b-released Sound of Silence.
Natalie Mullins - Juggles life between being a Social Worker and mother of two young children.
Robin Reader - Retired teacher and ex Radio Announcer.
Denzil Reader - Vale DR - Denzil was a plastic surgeon by day and an enthusiastic member of Writers at Work  in his spare time. Sadly both the writers' group and Denzil passed on long ago.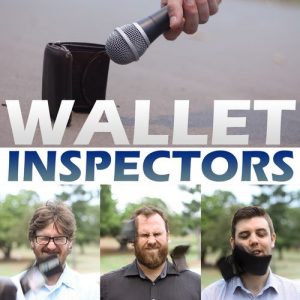 Michael Vilkins - Wears many hats but most enjoys being a poddie with two shows - The Wallet Inspectors, promotes itself as a Fake Crime
Trevor Bell. Trevor has his own regular podcast. It has the intriguing name, Iron Fist and Velvet Glove.   The Iron Fist and The Velvet Glove is a weekly podcast which takes a look at news, political events, culture, ethics and the transformations taking place in our society. We try to look at news events and examine whether they are good or bad, whether they are part of a larger trend, what social forces are at work and what are the implications for our future. A typical episode is an eclectic mix of serious ideas and amusing stories. We might well be cataloging the demise of civilization but we try to have fun while doing so. We are Australian so we include a lot of Australian stories but Australia is a small fish in a big pond and we consequently look at a lot of international events which are relevant to everyone.
Olivia Turner - Olivia is still in High School and  read our first Young Adult story, The Gift. We look forward to hearing more of her readings in the future.
Accreditations
Your web host - Wotif would like to make special mention of all the people, web sites, services and YouTube providers who assisted in the formation of this site, and the podcasts.
First and foremost, we would like to acknowledge iTunes, without whom none of these pods would ever have a home to begin.
Auphonics - a free editing suite
Wooshkaa - a free platform
Canvaa - a free editing site
Brisbane Podcasters - an organization offering support
Freesound - for free music and sound effects
Unsplash - free images
The Sound Bible - free sound
Music: We would particularly like to thank FreeSound and The Sound Bible for the music clips we use from time to time to give our stories enrichment.  For our first year we used A Brightly Burning Fire, and as we go into our second year we shall used Jaunty Jazz.
Podcast Support: During the year 2018/2019 the delivery of podcasts all over the world has been steadily increasing.  So too have the support groups that assist poddies by providing platforms for advice and motivation. In particular I would like to thank:
Brisbane Podcast Association
Podcast Support