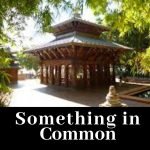 Something in Common is a story with many levels. An old lady and a young girl meet one morning, and while they share a common bond, they find they also have shared needs.
The location, the walk along the Brisbane River, through the Queen Street Mall, and onto the beautiful SouthBank is real. So is the exquisite Nepalese Pagoda which forms as a central meeting place.
And in this highly technical world, the basis for this story is becoming more common. Intrigued? All explained in our new story, Something in Common.
Editor's Note: FastFictionPodcasts will shortly be opening its portals to receive short stories or one-act audio scripts for dramatisation.  If you would like to submit a manuscript, please do so to fastfictionpodcasts@gmail.com
Please follow and like us: